Average length:
Males: 20 inches
Female: 19 inches
Average weights:
Male: 1.5 pounds
Female: 1.3 pounds
Description:
The male wood duck has a crested head that is iridescent green and purple with a white stripe from the eye to the end of their crest and a smaller white stripe extending from the back of the bill to the end of the crest.Their throat is white and a burgundy chest with white specks leading to a white underside.Their bill is is a brightly colored white,black and red. Their feet and legs are of a darker strawish grey color with a red eye.
The female wood duck will have a greyish brown head with a smaller brownish green crest.They have a brownish black eye with a tear drop shaped ring around the eye. They have a white throat with a grayish chest and white underside. Their back is olive green with a iridescent green sheen.Feet are a darker strawish grey color with a blueish grey bill.
Wood Ducks are considered one of North Americas most beautiful of native duck species and is found in and among flooded woodlands,creeks and swamplands throughout a great portion of the US. They are one of the easiest to care for and raise of the wild ducks in captivity.
Wood ducks generally nest in hollowed trees along creek beds, lakes and rivers. They will lay 6-14 eggs in a normal brood. The hen then will incubate the eggs for 27-30 days. The ducklings will fledge the nest early in life and begin their learning journey with the mother which teaches them to feed on seeds,insects, and grasses. Wood duck ducklings have been known to fledge from nests with heights as far as 45-60 feet off the ground with no apparent injuries.
Wood ducks pair off for breeding and usually are monogamous for life. They can be incubated with good success at a temp of 99-100 degrees and 55-70% humidity. Although it is still best to let the mother hatch the eggs if possible. When incubating you can expand the wood ducks clutch by removing eggs from her to inspire further laying.
Wood duck ducklings take a bit more care and understanding when first hatched as the mother teaches them how to eat. In my best experience it is a good rule to try and have other ducklings such as mallards, pekin or other domesticated breeds hatch with them to help teach them to feed .
Wood ducks are considered Migratory waterfowl and may require a permit or license to own.
Apricot Wood duck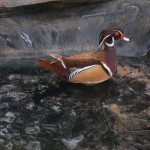 The Apricot wood duck is basically the same as regular wood ducks with a genial breeding for the bronze coloring. They require no different specifics than any of the other wood duck. They are just as hardy of a bird.
Silver Wood Duck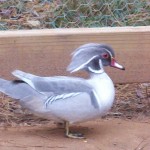 The same goes for the silver wood duck. The striking silver color has to be one of my favorite birds on our farm.
We raise and sell each of these varieties every year so contact us for more information.