For the safest and absolute best quality foam shippers on the market contact us

AS OF NEW PRICING FROM USPS ALL ORDERS WILL BE SHIPPED PARCEL POST UNLESS OTHERWISE ARRANGED THANK YOU
We put safety in egg shipping.
We fabricate and sell our own line of foam egg shippers designed with the safety and stability of your hatching eggs in mind. They are custom made for hatching eggs from almost any size eggs you may need to ship. The shippers come pre cut and are easy to use and will save you money and time on all your egg shipping needs. These shippers are thicker than most a provide excellent protection from the Post Offices rough handling of your package. They also help to protect against heat and cold shipping issues. The egg shippers we sell will fit 2 perfectly in a #4 priority box and can safely ship up to 24 small eggs,18 medium eggs or 12 large eggs. 1 shipper can be used to ship up to 12 eggs up to duck size . Look over the illustration and if you have any questions feel free to contact us at eggshippers@yahoo.com and we will gladly help you to use them to the best ability and show you how to maximize your savings. We guarantee you will save time and money on all your egg shipments. Due to recent changes you must put quantity wanted in the left field of pay-pal sign in field It will give proper shipping and quantity count for you there.
Thank you
Our Quail egg shippers
will fit Bobwhite and Coturnix or any small size eggs perfectly with enough padding between
each egg to insure safe and easy shipping of your quail eggs. Each shipper is designed to fit perfectly in a #7 priority box and stack able to a maximum of 5 per box. Each shipper will accommodate 60 eggs with a 300 egg total if needed in one shipment safely to its destination. Each shipper has a minimum of 5/8 inch spacing between each egg and border with each hole being 7/8 of an inch to insure no eggs will ever touch to insure safe secure shipping of your quail eggs. . This gives the best spacing and protection of any shipper on the market to our knowledge. We also offer a 1/2 inch pad if needed to cover bottom or top and between each shipper if desired or inserts can be cut to fit whichever works best for your needs. These shippers will make your quail egg shipping faster,cheaper and more secure than any on the market in our opinion and we hope you agree once you have tried them.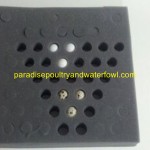 Our bantam size egg shippers are designed with the same priority to keeping your hatching eggs safe to their destination every time..They are able to ship any bantam size eggs including pheasant with great stability . These shippers are 2 inches thick designed to fit a #7 priority box and will hold up to 24 eggs each . As with several of our shippers we offer 1/2 inch pads if needed or necessary for your needs.